Just because the gym is closed doesn't mean we're letting you off the hook! We're going to be continuously updating our online content, so keep checking this post for new workouts you can do at home. 
Wake Up Shake Up: Core & Cardio
Today's Wake Up Shape Up will focus on core with cardio mixed in to get the heart rate up a bit – this is designed to be done either inside or outside, but outside is better.
Each round lasts 10 minutes for a 30 minutes workout! 
Plank hold – 60 seconds on elbows; keep your back flat and belly button pushed back towards your spine; relax your neck and tighten your glutes 
Side plank holds – 30 seconds left side, 30 seconds regular plank, 30 seconds right side 
Toe touches – 30 reps; pulse up towards your toes and touch them if possible on each rep 
Push Up Plank hold – 60 seconds on hands 
Outside – jog or run for five minutes at an 8 out of 10 exertion level 
Rest one minute and repeat three rounds or as many as you would like!
12 Down Ladder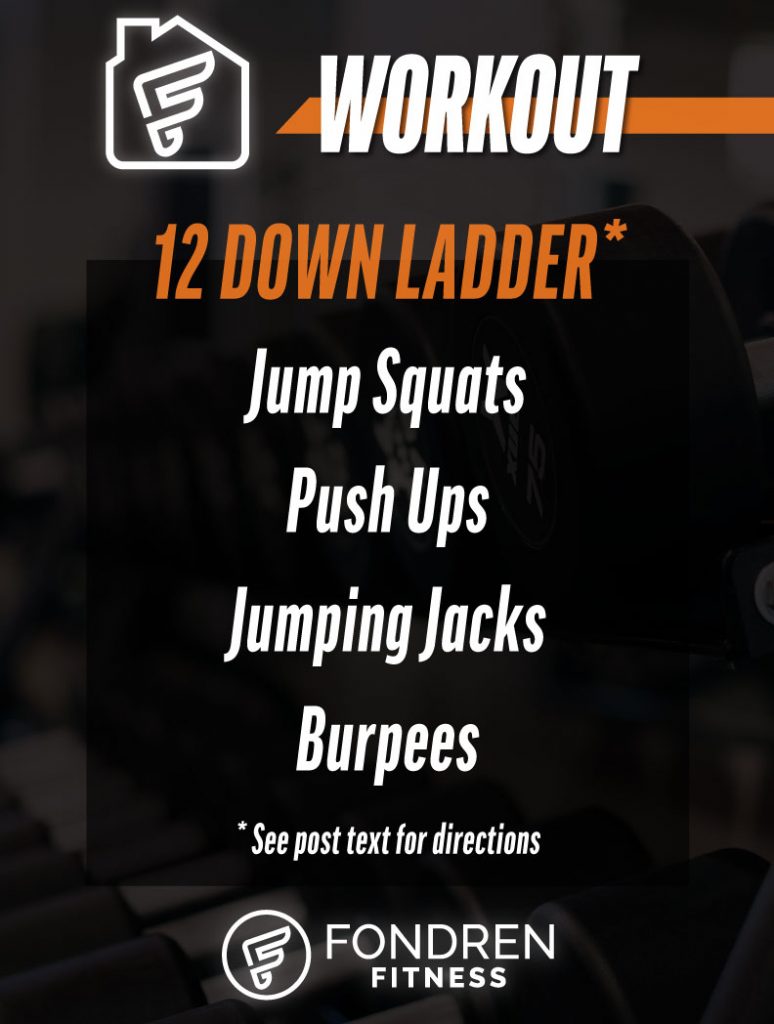 Perform the 12 down ladder for time and post your time!
For a ladder, you start out doing 12 reps of each move, then 11 reps, 10 reps, so on, until you do the final round of just one rep. Push yourself and let's see what you got!
Jump Squats – feet shoulder width apart, sit back and down and then explode 
Push Ups 
Jumping Jacks 
Burpees
Warm Up and Wake Up Shape UP
Get your morning started with this HIIT and leg wake up shake up workout!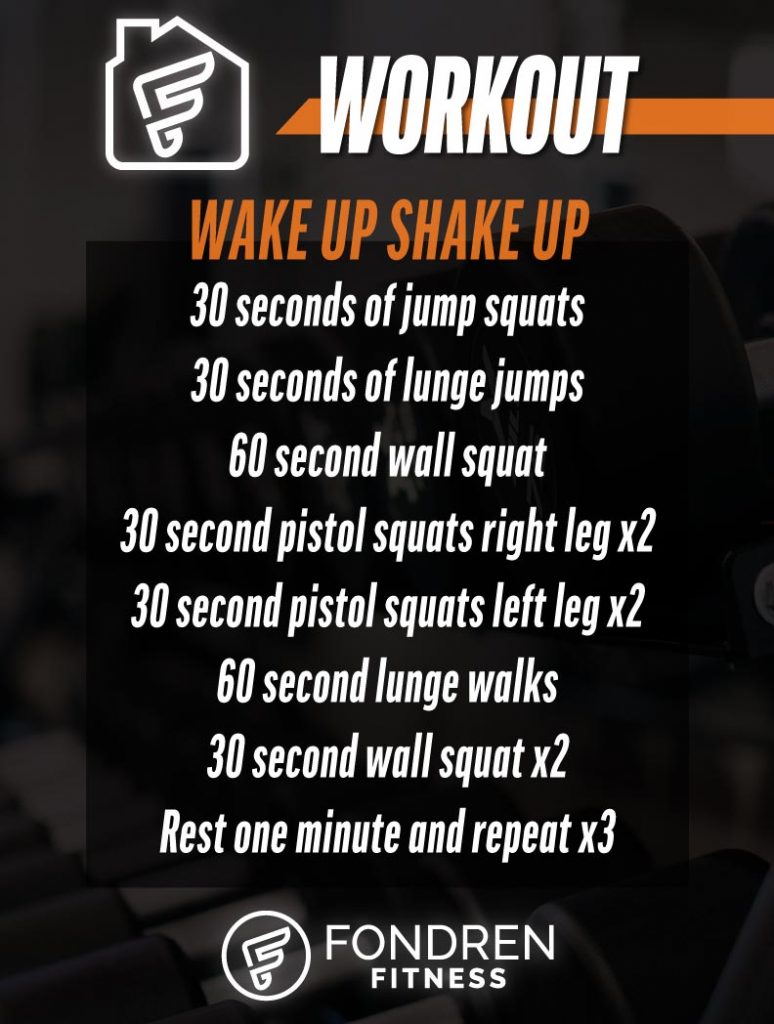 Complete 2 rounds of the warm up. Do each move for 30 seconds and then switch to the next move with no break in between. Complete three rounds of the following!
30 seconds of jump squats; 10 second break – same as air squat but add a big jump!
30 seconds of lunge jumps; 10 second break – short but fast lunge jumps
60 second wall squat; 10 second break – put your back against the wall and slide down into seated position and hold
30 second pistol squats right leg; 10 second break – using your chair, sit down while keeping your left leg extended out in front of you and stand back up; repeat for 30 seconds
30 second pistol squats left leg; 10 second break – same as above, but with your left leg
60 second lunge walks; 10 second break – walk back and forth in the space you are in, stepping into a lunge with each step; hold the lunge for one full count before proceeding to the next
30 second wall squat; 10 second break – repeat wall squat but for only 30 seconds
Rest one minute and repeat.
Finish by repeating the warm up (5 min total)
Wake Up Shape Up HIIT
Get your morning started with this quick 20 minute Wake Up Shape Up – Let's Go!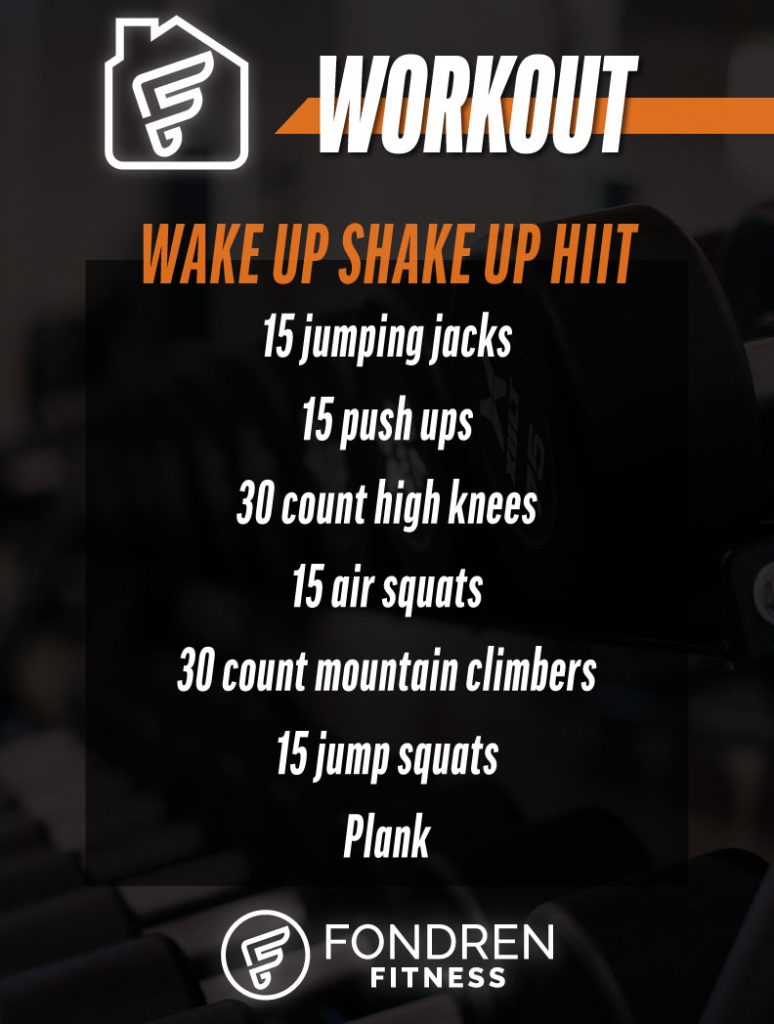 15 jumping jacks – then hit the deck!
15 push ups – standard or modified on knees, pop back up!
30 count high knees – get those knees up high and engage your core!
15 air squats – knees over ankles and chest up – back down!
30 count mountain climbers – hold plank, bring knees into chest as fast as possible – jump up!
15 jump squats – same as an air squat but jump high each time
Drop to the ground and hold plank for as long as you can with good form
Repeat three times and then go make some coffee!
Cut to the Core
All you need to get cut to the core is your body and some motivation! 💪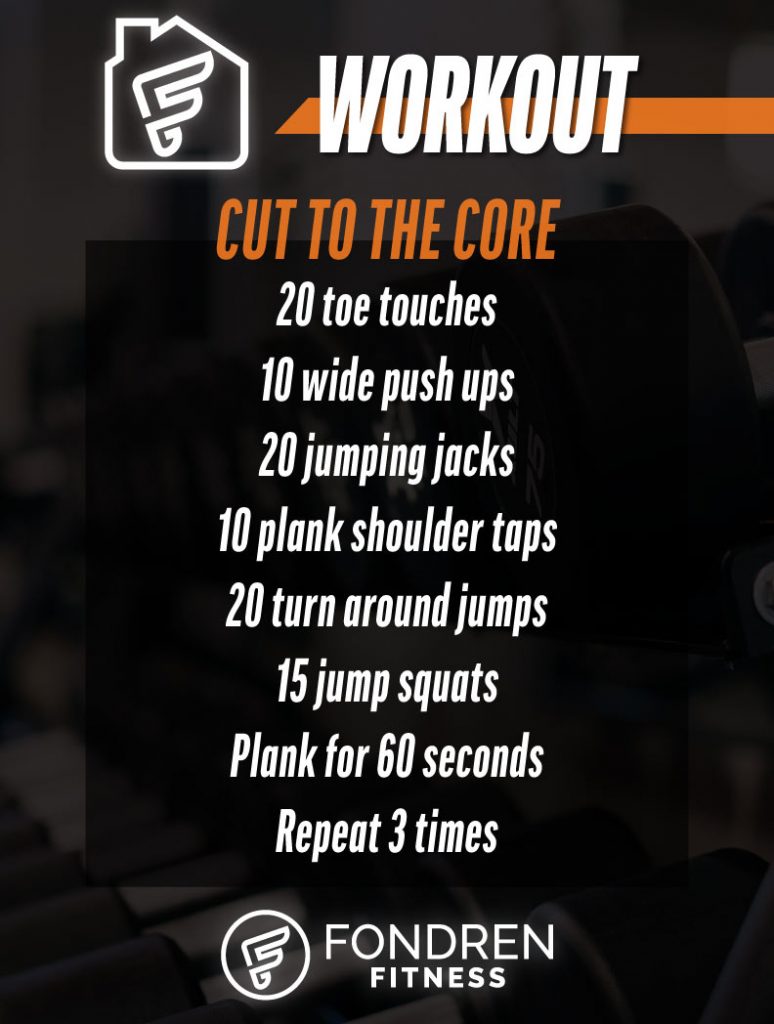 20 Toe Touches – reach up toward your toes and lay back down without letting your head touch the ground!
10 Wide Push Ups – hands outside the shoulder box, belly button tucked in, get ready to pop up!
20 Jumping Jacks – lets get that heart rate up, and give your arms a break!
10 Plank Shoulder Taps – hold plank and tap each shoulder ten times
20 Turn Around Jumps – squat, turn around jump and repeat
10 Wide leg sit ups – lay flat with legs spread apart, sit up with your hips at a 90 degree angle and ease back down
Hold Plank for 60 seconds
Repeat 3 times for a full workout!
Wake Up Shake Up: Dumbbell/Kettlebell
All you need for this Wake Up Shake Up workout is a dumbbell, kettlebell, or even a canned good! Complete 30 seconds of each move with 10 seconds in between. Rest one minute and repeat four times for a 20 minute workout.
Ski jumps – legs together, jump side to side using your arms for momentum
Weighted squats – dumbbell or kettlebell held onto your chest; sit down, stand up!
Military push ups – elbows touching ribs, chest to the ground – feel those triceps burn!
Wood Chops (dumbbell)/Kettlebell Swings – sit down and chop/swing with your weight; pop back up controlling the weight and engaging core!
Wall Walks – get in push up plank position and wall walk with hands and feet in the room you are in – tap the wall in front of you and then reverse walk to the rear wall.
Squat and lift – place your weight in front of you on the ground; squat down and pick up the weight with your right arm and lift overhead as you stand up; place the weight back down and switch hands. Speed it up!!
Push up to side plank – do a standard push up and as you come up, rotate into a side plank raising your right arm in the air for one second; go back down and then alternate sides. Keep good form!
Stay tuned for more workouts to come!