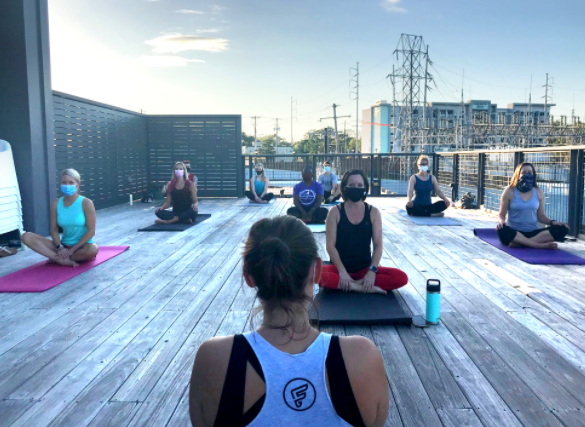 Relax. Re-center. Refocus.
We're excited to announce that we will be hosting an event on Thursday, November 4 at 5:30 PM for our Fondren Fitness Family. Join us on the Fondren Rooftops for a chance to sweat and socialize! Choose from attending a free HIIT class on the Fondren Corner Rooftop or a Yoga class on the WBA Rooftop. Plus, everyone who attends class will receive a free drink ticket to redeem after class!
Use the Fondren Fitness App to reserve your spot as seating is limited!
After class, at 6:00 PM, we will meet at Fondren Guitars to relax on the patio and hear the big announcement we've all been waiting for — membership opportunities for the new studio space! This presentation is open to everyone, so feel free to join us even if you didn't attend a class. Now is your chance to pre-register for memberships for spin, sweat, and barre! Availability is limited, so be sure to secure your spot. 
Come enjoy the beautiful fall weather, experience an exciting rooftop workout, indulge in a social hour with friends and fellow gym members, and be the first to sign up for The Fondren Fitness Studios.
Stay Strong, Lift Local!
Reminders and steps to sign-up:
Select either the yoga or HIIT class for November 4th at 5:30 PM (only 25 slots per class available)
Join us at Fondren Guitars at 6:00 PM